Secure
Simple to implement
Compatible with Android and iOS
Tokenised Card data enables 1-click purchasing
Secure
Simple to implement
Compatible with Android and iOS
Tokenised Card data enables 1-click purchasing
Mobile App Payment Processing
Mobile phone app card payment processing – Accept card data and process payments from within a mobile phone application.
Encoded enables clients to add to their current payment methods to include payment from within their existing mobile app.
Encoded's mobile payments service can be integrated into any existing app. This can be achieved either by using our Service API or by commissioning Encoded to write your app in its entirety. In addition to accepting and processing payments, information gathering services are also made available such as meter reading, customer information update and notification pushing.
Existing clients can add this app functionality to their account very quickly and with minimal cost. Building on their existing investment and increasing customer service opportunities.
1-click payment is a fantastic method of enabling users to effortlessly place a deposit, purchase or top-up your products or services. For more information about how Encoded can help with your requirements, get in touch now.
Contact us now to learn more about how Encoded can improve your business efficiency.
Call us on 01293 229 700.
Key benefits of Mobile App Payment Processing
Want to find out more?
Contact us now to learn more about how Encoded can improve your business efficiency.
Mobile Payments
Designed to work in cooperation with other Encoded Payment solutions, the card payment app can utilize previously stored card details for 1-click purchases. Similarly, card data accepted, processed and tokenised using the app can then be made available to contact centre staff to enable PCI DSS piece of mind without the need to request card data again.
Benefits and Features
Secure
- PCI DSS COMPLIANT
- GDPR READY
- PROCESSING PAYMENTS
- ID & V
Reliable
- 99.99% SLA
- MULTIPLE UK DATA CENTRES
- REAL-TIME REPORTING
Cost Effective
- AVAILABLE VIA API
- SIMPLE BOLT-ON FOR EXISTING CLIENTS
- INCREASED CUSTOMER SERVICE
Download Truth About Contact Centre Payments PDF
The Download Truth About Contact Centre Payments PDF offers the reader an insight into contact centre payments.
Encoded's Payment Products
All of Encoded's payment services work cooperatively. Sharing stored card details between solutions, enabling card holders to use the service of their choice without having to re-enter card data.
Read all our latest news articles on payment services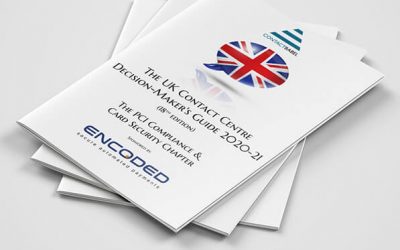 The latest UK Contact Centre Decision Makers Guide presents insights on how businesses are tackling card fraud reduction and security.The latest UK Contact Centre Decision Makers Guide (DMG) reports on the current trends in what has been a challenging year for contact...
read more
"Encoded is a dream to work with. They are efficient, reliable and totally professional with highly flexible technology to match. Always open to new ideas, they truly listen to what we want and go the extra mile to achieve it. That's what makes them different and sets them apart from the competition."
- Head of Customer Contact, Park Group.
"The people at Encoded blended well with our own team and understood our culture perfectly. They appreciated our requirement for a user-friendly solution that reflected Virgin's own unique sense of style."
- Operations Analyst, Virgin Holidays.
"Encoded has enabled us to build a truly round-the-clock operation without the need to increase our customer service headcount. To deal with the calls currently handled by IVR we estimate we would need to increase the existing number of agents by around 20%."
- Managing Director, Green Star Energy.
About Encoded
Encoded is a leading PCI DSS compliant provider of secure interactive voice response payment solutions. Encoded's products are designed to fulfil three key objectives; Reduce costs by automated business processes, Increase sales by offering new fulfilment channels, Improve customer service by maximising resource efficiency.
Contact Encoded
Head Office:
Encoded Ltd
Spectrum House
Beehive Ring Road
Gatwick
West Sussex
RH6 0LG.
Tel: 01293 229 700
Email: sales@encoded.co.uk
Call Me Back
Enter your details below for a quick reply.