Reduce costs by enabling customer self-service
Reduce PCI DSS compliance activities by 90%
Affordable and simple to integrate

Reduce costs by enabling customer self-service
Reduce PCI DSS compliance activities by 90%
Affordable and simple to integrate

Enabling your customers to securely transact through your website.
3D Secure, known as "Verified by Visa" or "MasterCard SecureCode" is now common place and an essential part of any card accepting website or business that takes payments online. Users are able to enter their card details in a secure web payments form and provide a secret password before the transaction is processed (acting like an online version of 'chip and pin').
3D Secure protects your business from chargebacks by adding an additional layer of authentication, which if left unmanaged, can result in serious fines or even blacklisting from card schemes. Encoded solutions integrate secure online payments into any website and will match individual site designs to keep the customer experience as seamless and secure as possible.
Contact us now to learn more about how Encoded can improve your business efficiency.
Call us on 01293 229 700.
Key benefits of Agent Assisted Payments
Customers given an option to pay securely by telephone or online
Include online payments with your contact centre options to avoid peaks and troughs in call volumes
Save time and money and avoid lengthy card scheme compliance testing
3D Secure allows immediate recognition of chargeback liability ensuring you are protected against customer chargebacks
Level 1 PCI DSS accreditation with Attestation of Compliance (AOC) from Encoded
Want to find out more?
Contact us now to learn more about how Encoded can improve your business efficiency.
Download Truth About Multi-Channel payments PDF
The Truth About Multi-Channel payments PDF offers the reader an insight into contact centre payments.
Encoded's Payment Products
All of Encoded's payment services work cooperatively. Sharing stored card details between solutions, enabling card holders to use the service of their choice without having to re-enter card data.
Read all our latest news articles on payment services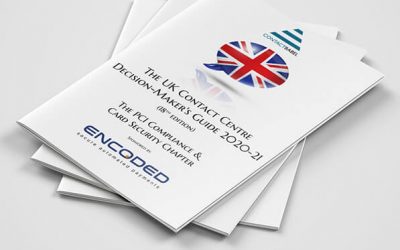 The latest UK Contact Centre Decision Makers Guide presents insights on how businesses are tackling card fraud reduction and security.The latest UK Contact Centre Decision Makers Guide (DMG) reports on the current trends in what has been a challenging year for contact...
read more
"Encoded is a dream to work with. They are efficient, reliable and totally professional with highly flexible technology to match. Always open to new ideas, they truly listen to what we want and go the extra mile to achieve it. That's what makes them different and sets them apart from the competition."
- Head of Customer Contact, Park Group.
"The people at Encoded blended well with our own team and understood our culture perfectly. They appreciated our requirement for a user-friendly solution that reflected Virgin's own unique sense of style."
- Operations Analyst, Virgin Holidays.
"Encoded has enabled us to build a truly round-the-clock operation without the need to increase our customer service headcount. To deal with the calls currently handled by IVR we estimate we would need to increase the existing number of agents by around 20%."
- Managing Director, Green Star Energy.
About Encoded
Encoded is a leading PCI DSS compliant provider of secure interactive voice response payment solutions. Encoded's products are designed to fulfil three key objectives; Reduce costs by automated business processes, Increase sales by offering new fulfilment channels, Improve customer service by maximising resource efficiency.
Contact Encoded
Head Office:
Encoded Ltd
Spectrum House
Beehive Ring Road
Gatwick
West Sussex
RH6 0LG.
Tel: 01293 229 700
Email: sales@encoded.co.uk
Call Me Back
Enter your details below for a quick reply.