Level 1 PCI DSS payment service provider
Long-term consultative partner
Provider of secure contact centre payment solutions
Level 1 PCI DSS payment service provider
Long-term consultative partner
Provider of secure contact centre payment solutions
Encoded is a leading Level 1 PCS DSS* compliant and ISO 27001 and ISO 9001 accredited payment solutions provider. Encoded's solutions are designed to fulfil three key objectives:
Reduce costs by automating business processes
Lower the cost of compliance by removing cardholder data from scope
Improve customer service by maximising resource efficiency
Encoded was founded 20 years ago to offer affordable, pay-as-you-go IVR and payment solutions to small and large businesses. Many contact centres now rely on Encoded's secure automated payments for their PCI DSS compliance requirements. Today Encoded solutions are trusted by many of the world's leading brands including Samsung, Mercedes-Benz, BMW, LUSH and Virgin.
This led to the development of a series of sophisticated automated contact centre payment solutions. In 2011 the company went through full PCI DSS accreditation with an external Qualified Security Assessor (QSA) and was awarded the top level of compliance and an Attestation of Compliance (AOC). This level of compliance only applies to organisations that store, process and/or transmit more than 300,000 Visa transactions per year.
Today Encoded is passionate about quality and security. We combine experienced business problem-solving with robust project management processes and technology to provide enterprise solutions to meet our customers' exact requirements. We operate as long-term consultative partners with a wide spectrum of customers ranging from large multi-billion pound enterprises to more boutique SME businesses in the UK and internationally.
Encoded's established network of partners means it can provide flexible cloud-based or customer premises equipment (CPE) solutions at competitive prices. The Encoded pricing model means customers are only charged for successful transactions. Therefore we stay close to ensure the service performs as perfectly as possible.
*Payment Card Industry Data Security Standard
Encoded Solutions Include:
Virtual Terminal Payments
Agent Assisted Card Payments
Tokenisation and Recurring Payments
Want to find out more?
Contact us now to learn more about how Encoded can improve your business efficiency.
View Encoded Customer Case Studies
View Encoded Customer Case Studies to learn more about solutions that could benefit your organisation too.
Read all our latest news articles on payment services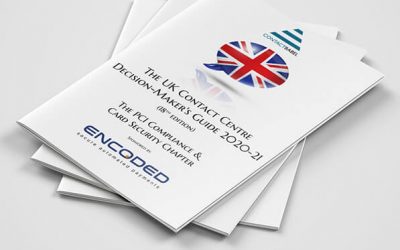 The latest UK Contact Centre Decision Makers Guide presents insights on how businesses are tackling card fraud reduction and security.The latest UK Contact Centre Decision Makers Guide (DMG) reports on the current trends in what has been a challenging year for contact...
read more
"Encoded is a dream to work with. They are efficient, reliable and totally professional with highly flexible technology to match. Always open to new ideas, they truly listen to what we want and go the extra mile to achieve it. That's what makes them different and sets them apart from the competition."
- Head of Customer Contact, Park Group.
"The people at Encoded blended well with our own team and understood our culture perfectly. They appreciated our requirement for a user-friendly solution that reflected Virgin's own unique sense of style."
- Operations Analyst, Virgin Holidays.
"Encoded has enabled us to build a truly round-the-clock operation without the need to increase our customer service headcount. To deal with the calls currently handled by IVR we estimate we would need to increase the existing number of agents by around 20%."
- Managing Director, Green Star Energy.
About Encoded
Encoded is a leading PCI DSS compliant provider of secure interactive voice response payment solutions. Encoded's products are designed to fulfil three key objectives; Reduce costs by automated business processes, Increase sales by offering new fulfilment channels, Improve customer service by maximising resource efficiency.
Contact Encoded
Head Office:
Encoded Ltd
Spectrum House
Beehive Ring Road
Gatwick
West Sussex
RH6 0LG.
Tel: 01293 229 700
Email: sales@encoded.co.uk
Call Me Back
Enter your details below for a quick reply.