Frictionless online payments reduce the risk of abandoned shopping baskets and increase customer loyalty. Rob Crutchington of Encoded discusses how payment orchestration harmonises and simplifies the payment process, improving customer experience and helping merchants to boost online sales and increase their revenue.
It's a given fact that customers vote with their feet. If they are buying something online and the process takes too long or cancels out, they will not follow through with the purchase – and possibly never return, which can seriously impact a merchant's bottom line. Fraud protection has also become front of mind, with customers requiring assurance that their details are safeguarded as cyber security breaches and the risk of identity fraud have become a greater threat.
While often seamless and apparently straightforward to the customer, it's clear that the transaction process is not a simple one. As well as the risks associated with data and fraud it involves merchants' systems connecting to different payment service providers (PSPs), acquirers and banks. Providing more customer choice also means an increasing amount of third-party technology and services, that merchants need to juggle, to achieve consistent transaction success. This is where payment orchestration takes centre stage.
Payment orchestration – a better way to conduct business
A payment orchestration platform is a single software layer for processing secure, frictionless online payments from payer to payee. Like a conductor, payment orchestration wields its baton to integrate and manage the entire payment process, from payment authorisation to transaction routing and settlement. Payment orchestration works independently of a gateway payment provider and is not affiliated with one acquirer. In this way it can manage multiple gateways, acquirers and payment methods which can be interchanged and used dynamically, in real-time.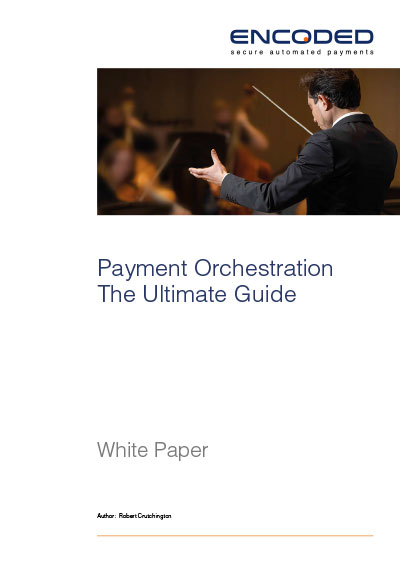 Ultimate guide to Payment Orchestration
Download the Ultimate Guide to Payment Orchestration to learn what it is and how to reduce transaction costs.
Six reasons why payment orchestration is music to your ears
Payment orchestration enables merchants to reduce operational costs, minimising fees to process their payments by routing transactions through the channels that offer the lowest rates. Below are six ways orchestration helps to conduct frictionless payments and increase customer satisfaction and revenues.
1. Reduces costs with increased conversion rates
Working with a payment gateway, a payment orchestration layer can integrate with a variety of card issuers, card schemes, gateways, open banking and acquirers enabling merchants to work out the best possible terms and rates. It supports intelligent, dynamic routing that sends transactions to the most appropriate payment and least cost acquirer. As an example, a merchant can set a rule to automatically route transactions that offers high-risk customers low-risk payment options or selecting a channel that offers the current lowest costs for transactions.
2. Provides a smoother customer journey
A standalone orchestration platform ensures a resilient payment ecosystem that benefits the merchant and customers. It dynamically selects the best payment option at the point of transacting based on multiple factors, to protect against failed transactions. Processing transactions across many different acquirers in this way delivers a smoother and more reliable customer experience.
3. Harmonises and simplifies the payment process
As a single platform, a payment orchestration layer harmonises and simplifies payment, making it easier for businesses to manage and track transactions across different payment service providers and methods. Operating as an independent, vendor-agnostic technology platform it can enable merchants to offer the latest payment options to customers, such as ApplePay, GooglePay, Samsung Pay and Open Banking.
4. Ensures secure payments to protect against fraud
With built-in security features, such as fraud detection and data encryption, a payment orchestration layer protects sensitive customer information. It consolidates all payments through a single platform via a payment gateway that checks and validates data, helping businesses to ensure consistent security measures and adhere to regulatory requirements.
5. Enables faster growth and to serve customers worldwide
Payment orchestration allows businesses to easily integrate with new payment service providers or add payment methods as needed, local or international. An independent platform with one-to-many API integration makes it easier than connecting with third-party payment service providers via different platforms or accounts. It allows businesses to grow without the need for significant infrastructure changes.
6. Future-proofs business
As well as providing easy integration to support growth, the easy, secure method to connect with multiple acquirers and payment options future-proofs a business as new ways to pay are introduced and customer preferences change.
Orchestration platforms help simplify the payment process, enhance customer experience, boost conversion rates and increase revenues. From small online merchants to large multinational enterprises, a payment orchestration platform will benefit any company that wants to stay competitive and thrive in today's business environment.