Secure payment solutions
PCI QSA partner – Blackfoot UK
Level 1 PCI DSS compliant card payments
Secure payment solutions
PCI QSA partner – Blackfoot UK
Level 1 PCI DSS compliant card payments
Secure payment solutions from Encoded. Independently certified as a level 1 PCI DSS compliant provider
The Payment Card Industry Data Security Standard (PCI DSS) is a set of requirements designed to enhance the security of payment account data. Created by Visa®, Mastercard®, JCB®, Discover® and American Express® it is made up of 12 requirements designed to secure business systems that store, process or transmit card holder data. It is meant to protect consumers and merchants against security breaches.
Card Data Security – The Buck Stops with the Merchant
Card accepting contact centres understand the importance of protecting customer data from fraud and cybercrime. However, it might be news to many that in the event of a security breach they will be the ones fined.
What are the major issues with PCI DSS and contact centres?
It is not easy to become a PCI DSS compliant contact centre because:
Handling Details
Allowing Agents live access to card payment details can lead to a high risk of those details being exposed. There are countless examples of Agents writing down information and sending it in emails etc. Therefore the risk from security breaches is high due to both human error and dishonesty.
Storing Details
A significant investment in infrastructure, security systems, as well as policies and procedures is required when storing payment card details on-site. Data storage for recurring payments leads to potential high levels of risk. Call recordings are also a major problem as they are likely to record and store sensitive card information, particularly in regulated industries.
Training Agents
The need to training agents to understand what PCI DSS compliance means and what their responsibilities are introduces additional costs.
Encoded has invested in achieving the top level of PCI DSS compliance. It has a Level 1 Attestation of Compliance (AOC) which applies to organisations that store, process and/or transmit more than 300,000 Visa transactions per year.
The high cost of going through full PCI DSS Level 1 accreditation with an external Qualified Security Assessor (QSA) is leading to some vendors claiming to be compliant when in fact they have not been through the whole process. This is putting contact centre organisations at risk.
To find out more about our PCI DSS compliant contact centre solutions, take a look at Five Things Every Card-Accepting Contact Centre Should Know about PCI Compliance or call us on 0845 120 9790.
Look up Encoded on the Visa Europe Merchant Agent Weblisting PDF.
Download Encoded's PCI DSS Certificate
Ensure that all service providers involved with card holder data have a valid PCI DSS certificate.

Want to find out more?
Contact us now to learn more about how Encoded can improve your business efficiency.
View Encoded's Inner Circle Guide
View Encoded's Inner Circle Guide to Fraud Reduction & PCI Compliance.
Read all our latest news articles on payment services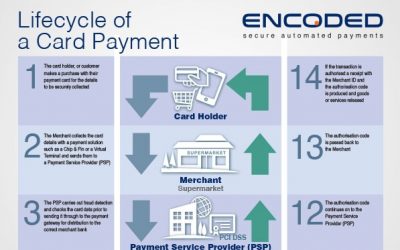 Have you ever thought about what happens once you enter your debit or credit card details into an automated system or read them out to a contact centre agent? The answer isn't easy but it is more straightforward than many would like you to believe, so stay with me as...
read more
"Encoded is a dream to work with. They are efficient, reliable and totally professional with highly flexible technology to match. Always open to new ideas, they truly listen to what we want and go the extra mile to achieve it. That's what makes them different and sets them apart from the competition."
- Head of Customer Contact, Park Group.
"The people at Encoded blended well with our own team and understood our culture perfectly. They appreciated our requirement for a user-friendly solution that reflected Virgin's own unique sense of style."
- Operations Analyst, Virgin Holidays.
"Encoded has enabled us to build a truly round-the-clock operation without the need to increase our customer service headcount. To deal with the calls currently handled by IVR we estimate we would need to increase the existing number of agents by around 20%."
- Managing Director, Green Star Energy.
About Encoded
Encoded is a leading PCI DSS compliant provider of secure interactive voice response payment solutions. Encoded's products are designed to fulfil three key objectives; Reduce costs by automated business processes, Increase sales by offering new fulfilment channels, Improve customer service by maximising resource efficiency.
Contact Encoded
Head Office:
Encoded Ltd
Spectrum House
Beehive Ring Road
Gatwick
West Sussex
RH6 0LG.
Tel: 01293 229 700
Email: sales@encoded.co.uk
Call Me Back
Enter your details below for a quick reply.