SMS Chat – Customer engagement platform
SMS is widely accepted as a non-intrusive, convenient method of communication. Encoded offers a feature rich, highly secure customer engagement messaging solution. As well as SMS and Voice, Encoded's solution also integrates with many other messaging services such as Facebook messenger.
Enjoy the convenience of connecting with any existing Encoded solution. Use SMS Chat to promote the use of online services, broadcast the release of your latest mobile App, invite clients to request your latest PDF download or accept payment on an outstanding balance. Whatever your requirement, Encoded's messaging platform can help you achieve your goals and exceed your customers' expectations.
By using "bots" to autonomously engage in client conversations allows a small number of contact centre staff to effortlessly handle a large number of customers; only being alerted when and if the conversation falls out of the expected flow. In such cases an agent is presented with the full conversation history and can pick up where the bot left-off.
Secure Messaging
Encoded's messaging platform is built with security at its heart. From its payments background Encoded has designed this customer engagement solution with PCI DSS and GDPR in mind. Capable of integrating with any existing Encoded payments product to accept payments via SMS from stored cards. Customers simply reply with the word "pay" to process their transaction.
AI Conversations
Encoded's intelligent campaign controller simulates a real agent and can handle the bulk of most conversations. Only pushing the conversation to an agent when and if it falls outside of set parameters. This enables a few agents to handle a large number of customer live engagements.
Contact us now to learn more about how Encoded can improve your business efficiency.
Call us on 01293 229 700.
Key benefits of Mobile App Payment Processing
Want to find out more?
Contact us now to learn more about how Encoded can improve your business efficiency.
Customer engagement
Written from scratch with PCI DSS and GDPR in mind. Encoded's SMS customer engagement solution ticks all the boxes.
Benefits and Features
Secure
- PCI DSS COMPLIANT
- GDPR READY
- PROCESSING PAYMENTS
- ID & V
Reliable
- BULK MESSAGING
- PAYMENT COLLECTION
- LIVE CONVERSATIONS
Cost Effective
- AGENTS SUPPORTED BY "BOTS"
- REAL-TIME REPORTING
- SMS, VOICE, FB MESSENGER
The product PDF offers the reader an insight into how Encoded's engagement platform works and its ease of implementation.
Encoded's Payment Products
All of Encoded's payment services work cooperatively. Sharing stored card details between solutions, enabling card holders to use the service of their choice without having to re-enter card data.
Read all our latest news articles on payment services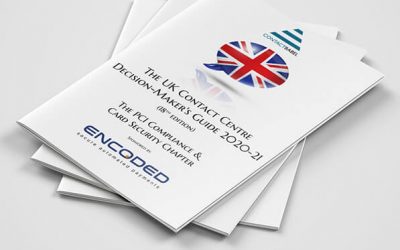 The latest UK Contact Centre Decision Makers Guide presents insights on how businesses are tackling card fraud reduction and security.The latest UK Contact Centre Decision Makers Guide (DMG) reports on the current trends in what has been a challenging year for contact...
read more
"Encoded is a dream to work with. They are efficient, reliable and totally professional with highly flexible technology to match. Always open to new ideas, they truly listen to what we want and go the extra mile to achieve it. That's what makes them different and sets them apart from the competition."
- Head of Customer Contact, Park Group.
"The people at Encoded blended well with our own team and understood our culture perfectly. They appreciated our requirement for a user-friendly solution that reflected Virgin's own unique sense of style."
- Operations Analyst, Virgin Holidays.
"Encoded has enabled us to build a truly round-the-clock operation without the need to increase our customer service headcount. To deal with the calls currently handled by IVR we estimate we would need to increase the existing number of agents by around 20%."
- Managing Director, Green Star Energy.
About Encoded
Encoded is a leading PCI DSS compliant provider of secure interactive voice response payment solutions. Encoded's products are designed to fulfil three key objectives; Reduce costs by automated business processes, Increase sales by offering new fulfilment channels, Improve customer service by maximising resource efficiency.
Contact Encoded
Head Office:
Encoded Ltd
Spectrum House
Beehive Ring Road
Gatwick
West Sussex
RH6 0LG.
Tel: 01293 229 700
Email: sales@encoded.co.uk
Call Me Back
Enter your details below for a quick reply.